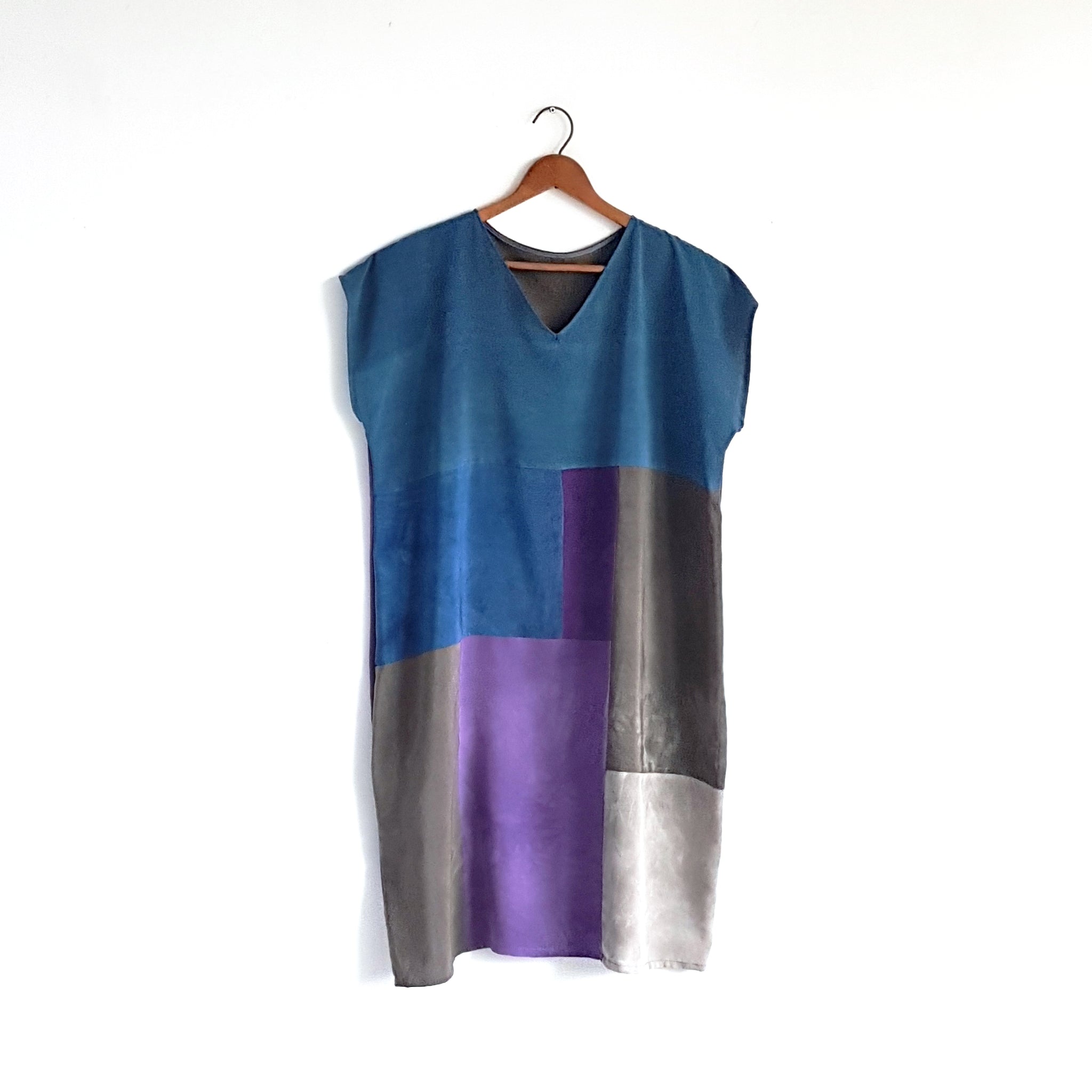 ORGANIC COLORBLOCK BORO Silk Dress. All natural dyes. Medium.
Asymmetrical colorblock silk dress.
Patchwork with hand dyed silk pieces.  Only botanical, natural dyes were used for this dress - perfect for those with sensitive skin.  
Readymade and ready to ship

Extended shoulders with v-neck .
Loose fit shift dress with slight A-line flare.
Made with medium weight crepe de chine silk with elegant drape and matte texture.

All silk piece used were hand dyed multiple times creating rich and nuanced colors.

Inspired by "Boro" textile, (traditional Japanese patchwork clothings worn by farmers, merchants and other working folks) various shades of silk pieces were artfully sewn together to create this one of a kind dress.

Hand washable, no need for dry clean.

US women's size medium (see below for measurements).

Made one at a time in our NY studio.

Pure silk is light and breathable but it can also be surprisingly warm when layered.
Feels heavenly on bare skin in summer or layer it for more cooler seasons.

Please note, unevenness/striation of the colors are characteristics of hand dyeing process and are not defects. Variation of colors gives this dress its distinct look.

specs*, measured from front of garment.:

length: 36"
shoulder width: 23.25"
chest: 20.75"
width at the bottom hem: 24.25"

*Please note, there is very little stretch in pure silk, therefore, garment measurements need be to be at least 2" wider than wearer's measurements. Please read the garment specs carefully before you purchase. Thank you.