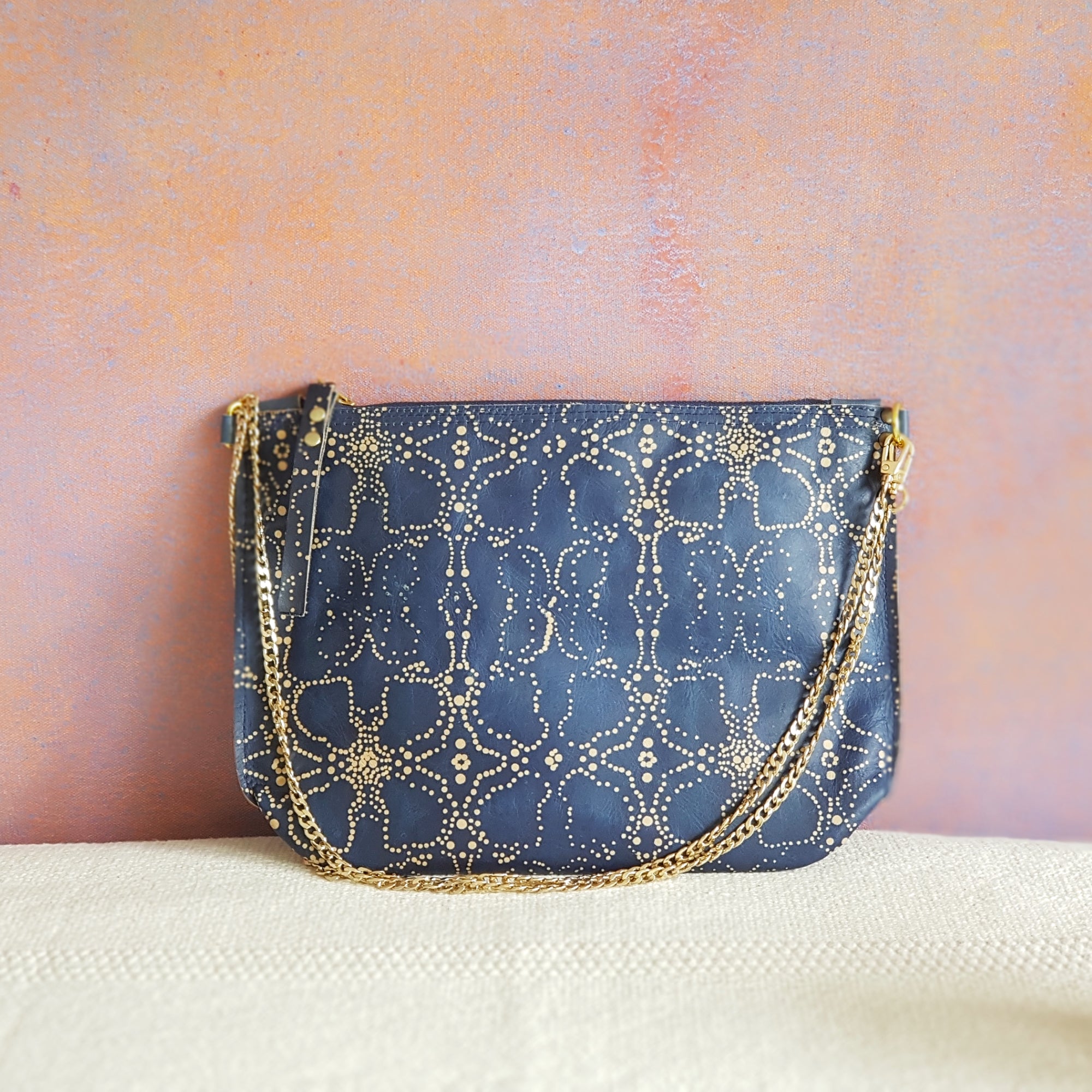 TEA STAIN no.05 simple shoulder bag with adjustable handle
Hand made, indigo dyed leather bag. Katazome method used.

Zipper top, single compartment with linen lining.
body dimension: 11.5 x 8 x 1"
Gold tone finish
Adjustable metal strap: Hand carry, shoulder carry and cross body carry

strap drop to top of purse: 9.5" or 22.5"
Leather was dip dyed with natural indigo.
Made in New York City with imported cowhide from Brazil
leather lining and leather interior pockets.
This one of a kind bag is made one at a time.
How was it made?
https://www.youtube.com/watch?v=T-hExjsB3uw&t=157s
Leather was hand dyed using natural indigo. Katazome* technique was applied to create the surface pattern. Once dyed, leather was conditioned with bee wax and pine resin, before being made into a bag.
This leather was tanned with vegetable tannin and dyed with indigo using minimal chemical use. The botanical tannin and dye ensures leather will age well. With repeated use, indigo hue will darken and acquire richer tone.
 Katazome is a traditional Japanese method of dyeing textile. Dye resist paste, made with rice flour is applied onto textile through a hand cut stencil. After the paste dries, textile is immersed in a indigo dye bath. Once textile is dried, resist paste is washed away to reveal the design of the stencil. Katazome is considered to be an early prototype of silk screen printing.
 Although Katazome technique is usually applied to textile, it has been adopted for leather dyeing after years of research and experiments. You won't find Katazome indigo leather anywhere else.